iGino One
Pros:
– Discreet design
– Easy to use
– Compact
– Rechargeable
– Innovative design
Cons:
– LOUD
– One speed
– Long charge time/short battery life
– Not splash or waterproof
Overall: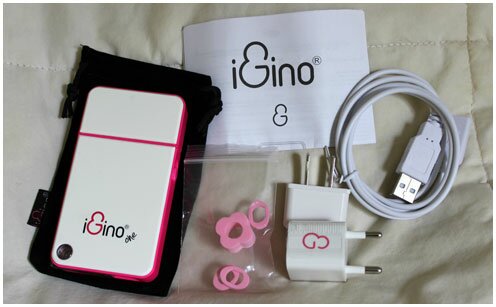 -Use-
iGino One is a rechargeable external vibrator that's very compact and discreetly designed.  Shaped more like a cell phone, this vibe easily tucks into your purse or pocket and is a great travel companion.  Best used for the female anatomy, this toy works well at stimulating the clitoris, nipples, and other external pleasure zones, but does work on the male anatomy as well.  Being compact doesn't just make it travel friendly, it also makes it easy to use during intercourse.  It fits easily between your bodies, keeping you and your partner connected while giving a little extra attention to the clitoris.
The plastic tip can be put directly against the body, or you can add the skinTouch head to the top to give you a softer feel that mildly mutes the vibrations.  It only comes with one tip, so that's the only option you have apart from using it as it is.  Obviously the shape of this makes it impossible to use internally, so don't try to shove it in places it doesn't belong.
Water is not a friend of the iGino One, in fact, it will die if exposed to it.  This vibrator isn't waterproof, and isn't even considered splash proof, so make sure you keep it away from the tub, shower, pool, etc. and don't run it under water when you need to clean it.  This is highly inconvenient, but understandable given the way the product works.
-Material/Texture-
The body of the iGino One is made from ABS plastic which is non-porous, body safe, and phthalate free.  The whole toy is really firm, and the area that connects with the body doesn't have any texture to it.  The majority of the toy is actually very smooth apart from the obvious areas like where the cap connects, though you can very lightly feel the words on the front and back of the toy.
There's one attachment for the tip of the piece, it's called skinTouch and is made from EVA (Ethylene vinyl acetate) which is form of plastic that feels like foam.  The manufacturer says that the material is porous, but is safe enough to use that it's commonly found in medical products.  So, very save to use, but shouldn't be shared with someone else.  The material feels squishy, but easily bounces back into shape.  It's not soft and plushy, but does have a lot of give to it; reminding me of super cheap children's flip flops.  The material is smooth when you run your finger over it, and doesn't have any drag to it.
Considering you only get one attachment and three extra little ring pieces, they are really cheap and seem like they will fall apart easily.  Add the fact that they're porous, and I'm not sure why they chose this material or didn't include more.
-Design/Size-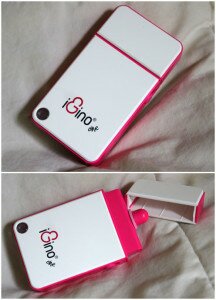 The overall shape of the iGino One appealed to me first and I loved the concept in general.  Having a vibe so thin it fits in your pocket like a cell phone?  I thought it sounded really interesting!  The toy really has that cellphone like shape to it which really helps keep it discreet looking.  Not many people would see it sitting on a nightstand and think it was a vibrator.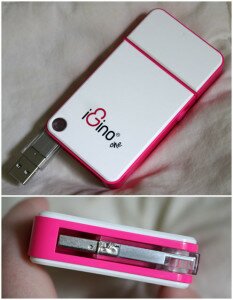 It's very girly in appearance, having a white back and face with pink sides, obviously being geared toward someone more feminine.  On the top has a cap that prevents the tip of the toy from being exposed when it's not being used and easily pops on and off as needed.  The bottom has the USB charger that flips out when you're ready to charge it but stays nicely in place otherwise.  It's really a great design since it tucks up nicely inside the toy until it needs charging.
The tip (where it connects with your body) is very small and comes to a broad rounded point.  It's small enough that it provides localized stimulation, but it doesn't feel like it's poking at you.  It easily rests against your clitoris and nipples, but can be a little harder to stimulate other sensitive external areas (like the perineum) because of the overall shape.
The stimulator sticks up from the body of the toy and requires a small ring to rest between the two areas.  It's also tall enough to support the include attachment.  The attachment looks like a four sided flower and is easily pressed onto the toy and is just as easily removed.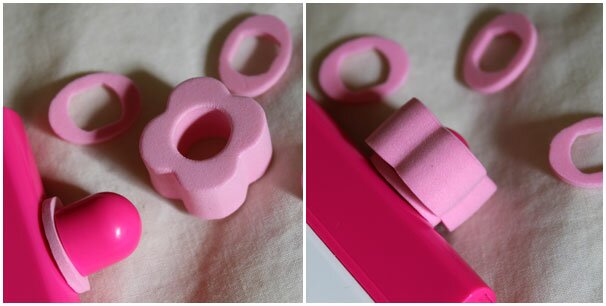 The full length of the toy is 4″ with the cap on and is 2 1/8″ wide.  It's a total of 11/16″ thick, being super reasonable for traveling.
-Functions/Controls-
iGino One is rechargeable and arrives with a partial charge.  It's important to make sure it's fully juiced before your first session to ensure it doesn't die on you in the middle of play time.  You can flip out the USB piece of your toy and put it into your computer to charge it, or you can connect it to an outlet thanks to the USB extension cord.  The cord then plugs into an EU plug and has a US adapter piece included; making it easy to charge no matter where you're located or travel.
When the toy is being charged, a blue light comes on and turns off once the charge is complete.  A full charge will take 12 hours and will power the toy for a total of approximately 40 minutes.  The long charge time would be totally reasonable if the battery held the power for longer than 40 minutes; it doesn't seem like a very fair balance with the short battery life.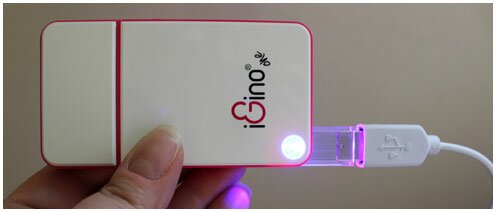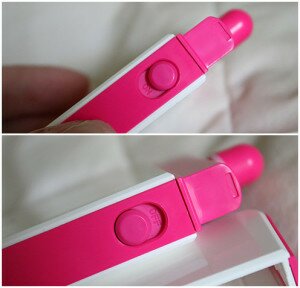 There's a simple on and off button on the side of the toy that's easy to figure out and press.  Being easy to turn on has its downfalls since there's no way to lock it during storage.  Keep that in mind if you have it in your purse or pocket since it could accidentally turn on and cause some embarrassment.
There is only one speed to this vibrator, and it's surprisingly powerful.  If you're very sensitive to vibrations, it will probably be too much for you and would either require warm up from another toy or indirect stimulation.  The vibrations are mostly deep, but I can't quite call them rumbly.  As a power queen who enjoy super rumbly vibrations, this wasn't quite right for me, but was so close.
The way this toy functions is really unique, but isn't without issue.  Rather than just vibrating, the tip actually moves in a back and forth motion, similar to how many women use their finger to stimulate their clitoris.  They call this vibraMoove.  The whole idea of that is great, but it's poorly executed.  The vibration speed is too fast and it doesn't actually feel any different than a regular vibe.
Easily the biggest downfall with this toy in my opinion, is the sound level.  This toy is loud!  While it excels in looking discreet, it fails miserably in sounding quiet.  It's difficult to focus on the feeling of the toy because the sound level is so distracting.  You'll need to make sure you're totally alone in your house if you want to use this toy without anyone knowing.
-Care-
Unlike a lot of vibrators, you have to be extra careful when you're cleaning your iGino One.  Without being waterproof, you can't run this under the faucet like you can other vibes.  It's best to clean it using toy wipes or a damp washcloth and antibacterial soap, being careful to avoid the USB area and the base of the stimulator.
Though this toy is compatible with silicone-based, water-based, and natural oil-based (think coconut oil), the water-based is easiest to clean off and will be your best option if you need lube.  The tip of the toy, without the skinTouch piece attached, moves easily along your body, so you might not feel the need to use any.
When you're not using the iGino One, it's important to keep the cap on it.  It prevents dust from getting on the toy and protects it.  The cap itself acts as a case, but it also comes with a small drawstring pouch that fits the toy perfectly inside.
-Packaging-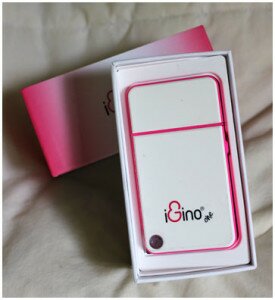 Arriving in a thick cardboard box, iGino One looks high quality from the moment your package is delivered.  The box is sealed in plastic and is tasteful though not entirely discreet.  The front of the box has the name of the product and the slogan ("what women want") but the rest of the information is found on the bottom, mostly telling you what the package contains.
When you open the box the toy is in full view and is resting in a thick plastic tray, preventing the toy from moving around.  Underneath the tray is the pouch, chargers, and small informational paper.  The box is quality enough that you can keep it and use it for storage since it keeps the chargers and everything in one place.
-Experience-
Having used only my hands to masturbate for most of my life, I thought the iGino One would work well for me, mimicking what I had already been doing for years.  When it arrived and I started checking it out, I was immediately surprised by the power that came from the toy.  My husband picked it up, turned it on and said, "wow, this one seems like it will be powerful enough for you!", even he knows how I work.  I was excited about the power behind it at first, until it came to actually using it.
When I put it against my clit, it didn't feel any different than a normal vibrator.  Here's this completely unique and interesting toy and it doesn't feel any different.  If they had slowed it down, and eliminated the vibrations, I think this would have been huge!  Apart from my disappointment surrounding the lack of difference, the power did impress me.  I can see it being a big issue for someone that's really sensitive, especially since the skinTouch piece doesn't seem to muffle the power very much.
It's an okay toy, but I was really hoping it would be something that would blow me away.  I think if they made it easier to clean, added variety in speed, made it quieter, and chose a better material for attachments, everyone and their sister would want one.  As it stands now, I'm not thrilled by it, it's okay, but nothing to write home about.  I'm hoping they'll listen to what their customers and reviewers have to say and make an iGino Two that features some of our suggestions.
If you're interested in learning more about the iGino One or purchasing on of your own, click on the banner below.

Big thank you to iGino for providing this vibe to me free of charge in exchange for an unbiased review.  This is in compliance with FTC guidelines.