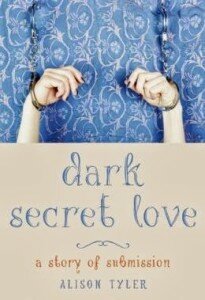 Recently I had the pleasure of joining forces with Cleis Press and in doing so, was introduced to the wonderful work of Alison Tyler. Her latest book Dark Secret Love is a memoir-inspired novel, teetering on the edge of truth and fiction. This well written novel is hard to put down as you follow the story of Samantha and her journey of submission; wondering all the while how much of Alison is truly tucked within the pages. Be sure to check out my full review and enter my giveaway to win a paperback copy of Dark Secret Love (giveaway ends Oct 31).
Thanks to the awesome blog tour going on, I have the pleasure today of featuring a piece she wrote about that very question, revealing the answer while leaving the perfect amount of curiosity. Make sure you check out the other stops along the tour to learn more about Alison Tyler and her latest novel; Dark Secret Love.
——————————————————————————————————————————————
Hot Mess
By Alison Tyler
It's a mess in my head. There are lists of words tacked to one wall. Notes for future projects. Sound bites of conversations immortalized on one of those old-fashioned reel-to-reels. Polaroids litter the coffee table. A jukebox in one corner plays vinyl records, 24/7, and a bookshelf against a wall sags with the weight of novels and memoirs. Coffee percolates on the Formica counter. Cans of spray paint reside in an open cabinet. There are sex toys and perfumes and lipsticks by the drawer. Oh and let's not forget the bar.
Yes, my mind is a hot mess.
For most of my stories, I give readers a sliver. I open the door a crack and let a glimmer of neon light shine through.
In Bachelor's Dessert, you'll find me in the clothes:
He looks me up and down, slowly. I'm wearing my beat-in Levis and my riding boots. A t-shirt so old and threadbare you can see the color of my bra underneath—lemon yellow, with lace on the edges. I have to use a safety pin to make the clasp hold. No mascara. No eyeliner. The blush on my cheeks is for real.
In Boilermaker, catch me in the tears:
"You'll hold still for this, boy. If you know what's good for you."
Parker turned his head away, bit his lip, felt the terror in his heart. But he stayed put as Clint whipped the tar out of him, licking him long and fast with that old leather belt before kicking his legs apart. Parker crying for the first time in god knew how long. Not just tears streaking his face, but sobs—a sound he didn't recognize, one he couldn't remember ever having made before.
And here I am in Burned, all wrapped up in yearning:
I looked into his eyes. We had not done this yet. We had fucked like animals fuck. He had taken me against the wall. He had driven his cock hard into my ass. But we had done no power play. Not the kind where you might need a safeword. The term bondage hadn't even rippled between us. Until now. "You stay," he said. He had his fingertips pressed against my clit. He alternated between licking that hard bud and rubbing his thumb directly across the top. Giving me too much pressure, too much pleasure, all at once.
Yes, I slip myself in all my stories. A little bit—only a flicker—in some. A bit more—a golden shot glass of whiskey—in others. For Dark Secret Love, I pulled on my knee-high glossy black Doc Marten boots and I kicked the fucking door down.
Wanna see the inside my mind?
You'll find me on every single page.
Alison Tyler is the author of …well, a lot of stories. (There are 205 unpublished tales on her hard drive at this moment.) She's edited anthologies for Cleis Press, Plume, and Harlequin. Her BDSM-drenched novellas include Tied Up & Twisted (Harlequin), Those Girls (Go Deeper), and Banging Rebecca (Pretty Things Press). Dark Secret Love is the first in a series of memoir-inspired novels. The Delicious Torment (second in the series) will be out in January. Visit her at alisontyler.blogspot.com for this, that, and the other.