Sensuelle Point 20 Function Bullet from Novel Creations
Pros:
- Rechargeable
- Compact
- Powerful
- Variety of functions
- Great for pin-point stimulation
Cons:
- Slightly larger than regular bullets
- Cheap plastic charging base
- Only water resistant
- No real lower intensity levels
Overall: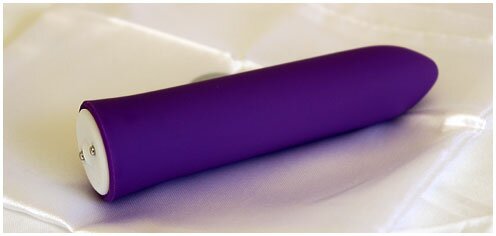 -Overview-
Compact vibrators are wonderful things!  They don't take up much room, can be slipped into your purse for on the go, and can easily be used between partners during sex.  Most of the time small toys are weak, which kind of ruins how versatile they are.  Well, the Sensuelle Point 20 Function Bullet is here to set your worries aside.  This rechargeable vibe might look small and cute, but it's one powerful beast!  So powerful, that it will likely be too much for those who are used to lower to moderate vibrations.  Though there's a large variety of settings, each of them are quite strong (though not quite as rumbly as some clitoral vibes) which doesn't allow users to build up to more intense settings.  This wasn't an issue for me since I appreciate the power, but it might be too much for others.  The size is also larger than a typical bullet and it's not waterproof, so it limits how many ways it can be used.  It's too thick to fit inside a typical bullet hole, so you can really only use it by holding onto it.  I think it's an awesome product, but some improvement could be made.
-Intro/Use-
The Sensuelle Point 20 Function Bullet from Novel Creations is a rechargeable bullet vibrator that's designed for external pleasure.  The small rounded tip is perfect for pin-point stimulation and the silky surface allows it to glide easily across your skin.
Best used on the female anatomy, this bullet is perfect for targeted clitoral stimulation and for teasing other sensitive areas of the body like the nipples and perineum.  It's not designed for vaginal use, and inserting it anally could actually cause a trip to the emergency room.  As long as you keep it external, you can use it on any area of the body.
Being compact makes this a great product to use with a partner as well.  It's non-threatening, easy to understand, and is small enough that it fits between your bodies during intercourse.  There are a couple downsides though.  You can't use it in a dildo with a bullet hole and you can't use it in the tub or shower because it's not waterproof (which also means you have to be careful when cleaning); limiting the way it can be used.  If variety of use isn't important to you, this is certainly worth checking out.
-Material/Texture-
The Sensuelle Point 20 Function Bullet is made from ABS plastic according to the paperwork, but mentions on the website that it's "twice dipped in silicone, to give you an ultra smooth, silky, sensual feel."  It doesn't feel that way to me, it seems like this is PU coated plastic based on feeling and sight.  Either way, the material is non-porous, latex free, phthalate free, and body safe.  You can safely use water-based lubricant with this vibe only, since the material might respond negatively to other types.  After use, you can clean the bullet by wiping it down with warm soapy water or use your favorite toy cleaner.  Pay extra attention to not get the base of the toy wet.  If you're sharing with someone else, you can sterilize using a 10% bleach solution (avoiding the base).
The surface of the toy is silky smooth and glides easily across the skin without requiring lubricant.  It doesn't attract annoying dust or lint which is a huge plus.  The only texture you feel on the toy is from the base which is where the control button is located.  It's slightly raised from the toy to make it easier to find and press.  There are no noticeable seams and it doesn't have a logo printed in it; it's completely smooth.
Being made from plastic, it's natural to expect the toy to be very firm.  It doesn't have any give, doesn't bend, and doesn't flex apart from the button on the end.  The solid surface is great if you're someone who likes to apply pressure with your toys, but can be lightly used if not.
-Design/Size-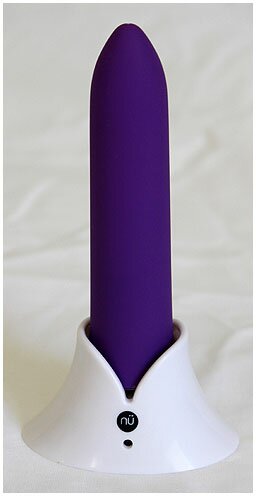 The Sensuelle Point 20 Function Bullet is available in three color options; Pink, Black, and Purple.  I really appreciate the fact that they decided to make at least one color that wasn't girly.  I think this helps the product appeal to a wider audience since there's an obvious need for more gender neutral colors.
The design of the bullet immediately jumps out at you.  It's a very familiar shape from the rounded point to the design of the button.  It's discreet on one hand since it's small and would easily blend in with beauty products or the other contents of your purse.  However, if anyone picked it up to really look at it, it would be obvious that it's a vibrator.
What makes it different than others is the size.  Standard bullets are 5/8″ in diameter and most toy manufacturers create bullet holes in their dildos that work perfectly for that size.  This one is 3/4″.  It might not seem like a large difference, but it's enough that it won't work in most dildos.
The length is also longer than average, coming in at 3 3/4″ in length.  Though it is larger than your standard bullet, it's still nice and compact.  You could easily toss this in a purse without it taking up too much room.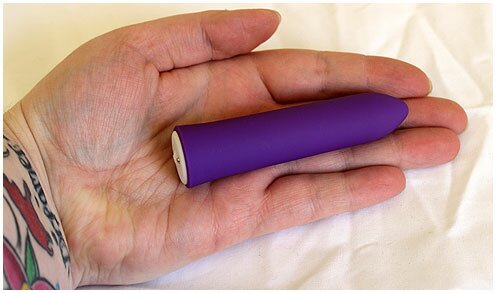 -Functions/Controls-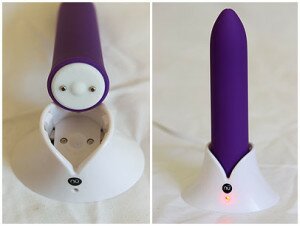 When your Sensuelle Point 20 Function Bullet first arrives it has a partial charge.  The instruction manual says to charge it for 60 minutes prior to your first use, but it took mine a little longer than that.  There are three pieces that make up the charging unit – a base, a USB cord, and an adapter that allows you to plug it into a regular outlet.  There are two metal pieces on the bottom of the bullet that need to line up in the base in order for it to charge.  You'll know if you've connected it properly because the light on the front of the base will start blinking.  As it's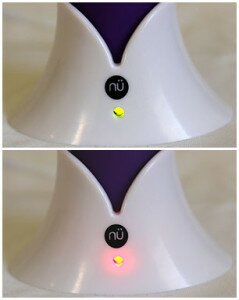 charging, the light will blink back and forth between red and green.  When the toy is finished charging, the light will remain on green and no longer blink.  If you keep the base plugged in and remove the vibrator, the base will glow red, and it can be disconnected from the power source.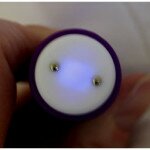 The power button is on the bottom of the vibe and is easily turned on by simply pressing it.  When you turn it on, a blue light will glow behind it and you'll be experiencing the first of 20 different settings.  Each press after that will bring you to the next setting.  When you've cycled through them all, the vibrator will turn off, or you can hold the button for a few seconds until the vibrations cease.  When you turn the toy back on, you'll always start on the first setting; the vibrator doesn't hold your place.  So if you come across a setting you love, you'll have to cycle through in order to get to it.
The first three settings are steady low, medium, and high, but the rest after that offer different pulsating vibrations.  While it sounds like a lot of variety, it really isn't.  There are no roller coaster settings, no escalations; just a bunch of different pulse patterns, speeds, and intensities.
The front of the package says, "DON'T SETTLE FOR ANYTHING LESS POWERFUL" which automatically made me think it was gimmicky like a lot of packaging tends to be, but I was pleasantly surprised when I turned the toy on.  The vibrations are actually very powerful and might be too much for some.  The power is there, but it's only somewhat rumbly.  It's not buzzy or numbing at all (it's just not as deep as other bullet vibrators that have a similar look) but might take you a little longer to climax as a result.  The power is evenly spread throughout the vibe, and though your clit won't become numb, your fingers might.
The sound level is okay.  The vibe can't be heard through a closed door, but someone in the same room with you would easily be able to hear the vibrations.  It's reasonable, but could be more modest.
-Packaging-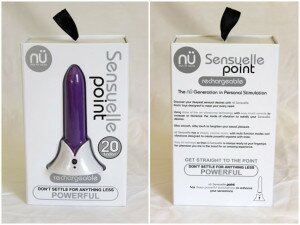 The Sensuelle Point 20 Function Bullet arrives in a cardboard package that obviously gives away what it contains.  The front simply has a plastic window that's molded in the shape of the toy which can easily be seen through it.  The box is also covered in information about the product, which prevents it from being discreet, but is presented in a tasteful manner.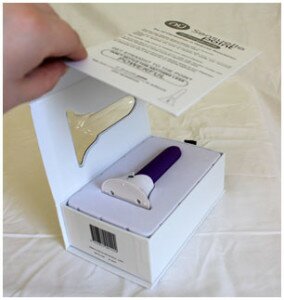 Rather than having a lid that pops open or slides off, the cover is attached to one side of the box, raps around it, and magnetically closes around the back.  I like the design in general, but you have to be careful when you're opening the box since the vibe could easily fall out.  It's resting in a piece of plastic and stays in place just fine when the box is closed, but it doesn't hold the toy well when it's open.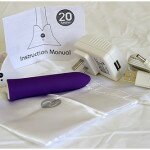 Beneath the plastic tray you'll find the instruction manual, storage pouch, and a smaller cardboard box.  The box is taped to the back of the package so it doesn't move around.  Inside are the USB cord and the wall adapter.
The instruction manual has only English in it, and is simply a single piece of paper folded in half.  The front and back don't have much information apart from which product the information goes with.  Inside you'll find the most basic information about the product and includes an illustration that helps you understand the charging system.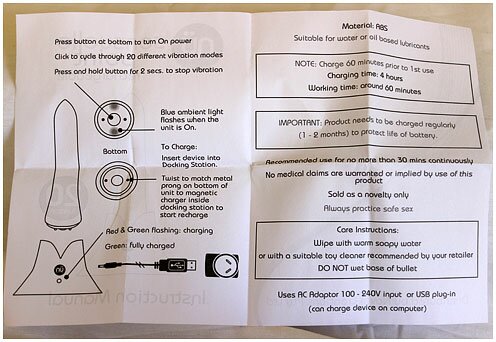 -Experience-
When I first saw an image of the Sensuelle Point 20 Function Bullet, I had to rub my eyes because I honestly thought We-Vibe had re-released Salsa in other colors.  After reading what the product was, I felt a little let down, but wondered if this product could live up the power it claimed to have.

When it arrived in the mail I was immediately surprised by the size.  It literally looks like a Salsa on steroids!  The first thing I noticed when I took it out of the package was how cheap the charging base felt.  It's a very light plastic that feels like it could easily break.  This is very concerning since it's the only way you can juice up your vibrator.  As long as you're careful with it, you shouldn't run into any problems.
Once the toy was fully charged, I turned it on to test the power.  I was immediately surprised, especially because I was on the first setting.  There's a lot of power here, which is something I need in order to climax, but I felt like there should have been at least a couple settings that were lower in intensity for more sensitive toy users.
The vibrations aren't deeply rumbly, but aren't buzzy and I found them to be satisfying.  It took me a little longer to climax than normal, but I didn't have to force it either.  I can see this becoming a nice back up when my go-to vibrators aren't charged, but it's not deep enough to overtake the number one slot.
Interested in checking out the Sensuelle Point 20 Function Bullet for yourself?  You can learn more by visiting the Novel Creations website, or by purchasing through Bondara by clicking the link below. 

The Sensuelle Point 20 Function Bullet was provided to me free of charge in exchange for an unbiased review.  This is in compliance with FTC guidelines.