Vulva 101
-The Facts-


Title: Vulva 101
Author: Hylton Coxwell
Publishing Company: Liquid Metal Publishing
ISBN: 978-0-9877358-0-5
13 x 11, 132 pages
Hardcover
2011
Vulva 101 is truly an amazing project that Coxwell put together in order to help women learn to be more comfortable with themselves by shedding light on how different we all truly look.  It's no secret that a lot of women are very self conscious when it comes to their bodies; usually concerning stretch marks, excess fat, or saggy breasts.  But the truth is, a lot of women have a difficult time with the way their lady parts look.  This incredible book helps eliminate the shame some women might feel, and exposes the beauty and diversity among us all.
There are a total of seven chapters in this book, the fourth chapter being the longest and containing the most images.  Before chapter one there's an acknowledgements section, and a forward written by sex educator Viktoria Kalenteris.  She touches on how pleased she is with the concept of this book and how important this project is.  The acknowledgements feature the names of the one hundred and one women who's openness made this project possible, and includes many others that contributed to this cause in other ways.
Now, while this book does feature an incredible amount of nude images (319 to be exact), it's tastefully and beautifully put together.  These images are artful and were done for a cause.  There are plenty of books available that will fulfill your sexual needs, the purpose of this one was designed to give confidence and validation to many who feel uncomfortable with the way their vulvae look.
The first chapter explains how and why the book came together, where the idea initially came from, and how he started the project.  It's impressive the drive behind it, and how important it was for Coxwell to put this book together.  The second chapter goes into the various names and ideas people have surrounding the vulvae, as well as how censored it is and the discomfort many people have surrounding even the word itself.  The third chapter, titled Ouchy!, discusses the many ways vulvae can temporarily or permanently be changed either due to an accident, or purposefully.  Accidents, hair removal, surgeries, and body modifications (tattoos and piercings) are mostly what's covered.
Chapter four is where the flood of images start.  The models that were photographed were all between the ages of 18 and 65, and were all between 85 lbs and 320 lbs; talk about a diverse group of women!  The first page in this chapter covers various points about the shoot and models themselves (including the age/weight information), leaving the pages of images to speak for themselves.
Each page is dedicated to one woman; three photos are used to show various angles of her vulvae, and the background of the pages are in black which really helps showcase the images themselves.  Only women are shown in this book, and the images are close up.  You can't tell the person's age or weight, and only sometimes can pick out their exact ethnicity.  All photos were shot in natural light and are as close to the woman's true skin tone as possible.
The angles shown are different on each page, some simply laying down, some standing up, and some shown spread apart.  The pubic hair is different with each image, and the women were encouraged to keep it the way they normally would.  Apart from common differences (shape, size, etc.), there are many images where the woman has tattoos and/or piercings; truly showing off how we're all unique.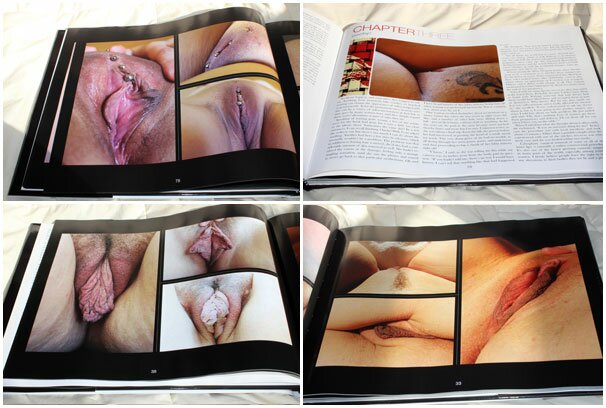 When the book is open, two different women are shown, still with three images on each page.  The overall look and feel of the book isn't one you would put on the shelf, it's what a lot of people would call a 'coffee table book'.  It's large and image focused.  However, if you have young children it might be best to keep this book out of their reach.  For a more mature female (older teen and up) it certainly could be used as an educational tool.  No female should go through life feeling like something is wrong with the way their anatomy looks, even when they're still an adolescent.  Books like this can really change the way girls view their bodies, long before they think something is wrong with theirs.

The fifth chapter in this book touches on bisexuality, primarily focused on the women who posed for this project.  He came up with a little scale that looks at three different categories of attraction; physical, sexual, and relationship interest, and put together a chart showing the results.  This didn't feel like it was directly related to the concept of the book, but could perhaps help someone who's struggling with their sexuality.
Chapter six is filled with comments from the women who posed.  They discuss their experience, thoughts on the project, advice for others, and how they felt after seeing their photos.  Some comments are short, while others are a little more detailed.  Either way, it brings a smile to my face reading about what a positive experience this was for so many.
The final chapter is on a theory Coxwell had about the length of a woman's inner labia being similar to women's menstrual cycles synchronizing.  He thought at first that the length depended on where the women were from, but how the theory quickly was eliminated as more women were photographed.  He also discusses how various things can effect a woman's cycle and how cultural differences effect us.
-My thoughts-
I love the whole idea of this book!  I think of all the concerns women have about their bodies, the vulvae are least discussed.  The images in this book, though considered graphic, are well done and enlightening.  I really think they found the perfect middle ground between medical illustrations and something pornographic.  I think that's what I appreciate most about this book.
I felt like the text in the book could have covered things better.  Some sections felt totally irrelevant, but some areas were really great.  I wish they had stuck with how the project came together, a brief history, and the women's feelings before and after and left it at that.  It's really a small thing considering what a fantastic project this is, but I easily lost interest in what was written in the chapters themselves.
-Notes-
The front cover of the book displays the title very boldly, but no nudity is shown.
The book has a dust jacket, but the cover of the book and jacket look exactly the same.  The shiny surface of the book and pages easily pick up fingerprints.  That was a little annoying, but not a huge deal.
Vulva 101 is available to purchase through Amazon.com

A special thank you to Liquid Metal Publishing for providing me this book free of charge in exchange for an unbiased review.  This is in compliance with FTC guidelines.