Elephant Trunk
Pros:
- Unique Design
- Can be customized
- Made from silicone
- Storage pouch included
Cons:
- Extra attention is needed for cleaning
- Texture might not be right for some
Overall:


-Use-
Exotic-Erotics is a company that creates fantasy dildos; most of which are designed after animals and fictitious creatures, but there are some products modeled from actual men.  The Elephant Trunk, though non-sexual in appearance, is a dildo that features truly impressive details.  Best for solo situations, this toy can really rock a session!  Though it's mostly straight, the tip of the toy has a slight curve which may connect with the G-spot, but that will depend entirely on anatomy.  Even if it doesn't, the girth provides an amazingly full feeling that's sure to satisfy the size queens!
If you're daring, the Elephant Trunk is also safe to use anally thanks to the flared base at the bottom and the overall length.  It's important to note that the tip might be a little difficult to insert, and it's not a beginner toy.  It's quite large and heavily textured and should only be used by those who have a good deal of anal experience.
You absolutely can use this with a partner, but because of the length, you need to be careful with thrusting.  Even though the tip is very soft, it wouldn't be difficult to ram it too hard against the cervix, causing discomfort.  Just use caution and it should be fine.  The base on mine is far too large to use in a harness, but the small size might might be suitable for that type of play since the base of the small is 1.9″ in diameter.
-Material/Texture-
The Elephant Trunk is made entirely from body safe silicone.  It's latex free, phthalates free, and is completely non-porous.  This particular silicone has a matte surface to it which does have some drag, but it's not unreasonable; picking up some lint but easily being wiped clean.  It's really unlike any silicone I've felt before.  Even with the drag it has a smooth feeling to it, quite hard to describe if you've never felt it yourself.  A good water-based lubricant eliminates the drag and makes all the difference with helping the toy slide once it's applied.
The amount of give to the material will vary because you're able to choose from four different options (will explain further in the customize section).  My Elephant Trunk was made with the cored option, making it soft on the outside and firm on the inside (it's also been called dual density by other companies).  This option gives you a plushy outer layer, without the whole toy being floppy and difficult to use.  The firm core makes the trunk stand totally straight without leaning and makes it much easier to insert and thrust.  The outer layer is nice and squishy which makes it comfortable during use, especially if you purchase a larger size.  It's able to bend a little bit when you manipulate it, but doesn't flop over otherwise which was something I was really concerned about.
The outer layer isn't super thick; the core seems to be one size, making the upper portion of the toy less squishy than the bottom since it increases in size.  The size increase is done using the softer silicone, at least that's how it seems to me.  Other dual density toys I've used had too much of a squishy layer and not enough of a core, the difference on this one is much better.


The surface of the toy is obviously covered in texture.  The wrinkles and creases make it look that much more realistic (as an actual elephant trunk) and adds stimulation while you're using the toy.  How obvious the texture is during use will depend on the firmness you selected when customizing your toy and how sensitive you are.  With the cored version, the texture is actually quite subtle, the softer the surface the less obvious it is.  I'm not very sensitive to texture, so keep that in mind, but I don't see this being overwhelming unless you have a strong dislike for texture.  The sensation feels like it's lightly ribbed, only unevenly patterned; so even though it looks like nothing you've ever tried before, it probably feels more 'normal' than you would expect.
The base of the toy is shiny and totally smooth.  There's no suction cup option for this product, but many others have that option.  The flat bottom paired with the weight of the toy actually keeps it in place fairly well on a flat surface.  You can't suction it to the wall, but you could set it on a wooden chair (or something similar) during use and it will stay in place for the most part.
-Design/Size-
What I found most appealing about this toy was the fact that in general, this would be considered a non-sexual design.  It's not modeled after an elephant penis, it's the trunk.  While I love all the amazing fantasy dildos and penis like toys, I really love how unique this idea is.  The details of this particular toy are highly impressive and photos truly don't do it justice!  The tip of the toy is made only of the softer silicone and is very squishy and pliable.  It's sort of cupped on the top, and inside forms shallow nostrils.

Just underneath this area is where you start feeling the firm core.  The fact that the top is totally soft is really great since it's a lot more comfortable to use.  It does act as a cup and will contain bodily fluids and lubricant when you pull it out, but it's very easy to clean because it's not very textured inside.

Every time I look at this piece I get more blown away by the attention to detail!  The front of the shaft (with the opening facing you) has a more prominent area that goes down the length of it, but the back and sides are all the same; covered in horizontal and vertical lines that make it look so realistic.  The base at the bottom is much wider than the base of the shaft.  It's necessary thanks to the length of the toy and does a great job at keeping it grounded.


The shaft starts off at the thinnest area and gradually gets larger as you work your way down.  I chose the medium size, but other options are available.  The full length of the medium (including the base) is 12 3/4″.  Of that , 11 1/2″ are insertable.  Measuring at the top, center, and bottom (as pictured to the right); 6 1/2″, 8″, 9 1/2″.  The very bottom, just before the base, is 10″ in circumference.  This is far from being a beginner friendly toy!  Because the surface is soft, it's a lot more manageable than it sounds; but it's still a very large toy that truly shocked me when it arrived!  Laying it next to my arm nearly made my jaw drop, the length is longer than my forearm, and my fingers can't reach around most of the toy.  Make sure you're property warmed up before using this toy or you may experience some discomfort.

-Customizing-
One of the great things about Exotic-Erotics, is that they offer a variety of sizes, firmness levels, color options, and on some, suction cups.
-Sizes – There are three sizes available for the Elephant Trunk; small, medium, and large.  I chose the medium because I've recently discovered that I enjoy a really full feeling during my play time.  The size difference between each of them is quite different.  If the small seems too small for you, the medium may be too large.  Make sure you take a good look at the measurements provided on the site before making your choice.
-Firmness - Deciding on size and firmness sort of go hand in hand.  The larger the toy, the softer you probably want it to be.  You have four options to choose from.
Soft
Medium
Hard
Cored (+$20)
With a toy that's long like this one, it's best to get the cored option if it's available.  It might cost you a little bit more, but your toy will stand straighter and be easier to use.  If you're unsure about which firmness is right for you, Exotic-Erotics offers a $5 sample set that will give you the best idea before making your purchase.  If you choose to try out the sample set first and end up making a purchase, they'll take the $5 you spent and put it toward the purchase you make.
-Color Options – I went pretty basic with mine, liking the idea of it being a similar color to an actual elephant, but you can go pretty crazy with your color choices.
Custom (no fades) (+$5)
Florescent Blue
Florescent Green
Florescent Orange
Florescent Red
Florescent Yellow
Green Glow-in-the-Dark (+$15)
Grey
Light Blue
Light Brown 
Pink
Swirl (two of the offered colors) (+$15)
Fleshy Pink
White 
Black 
Blue
Brown 
Green
Red 
Yellow
-Care-
Included with your toy is a lovely care card that explains everything you need to know about properly taking care of your toy as far as cleaning it, using lubricant, and storing it.  While some might be concerned about the texture on this toy, I found it to be very easy to clean.  It's a little large and didn't fit well in my bathroom sink, so you may need to clean it in the tub/shower.  You do need to pay some extra attention to cleaning the toy thoroughly.  Because the crevasses aren't deep it's not difficult, but you can't just go over it with a toy wipe.  You may feel the need to use a soft bristled tooth brush on it, but I didn't find it to be necessary.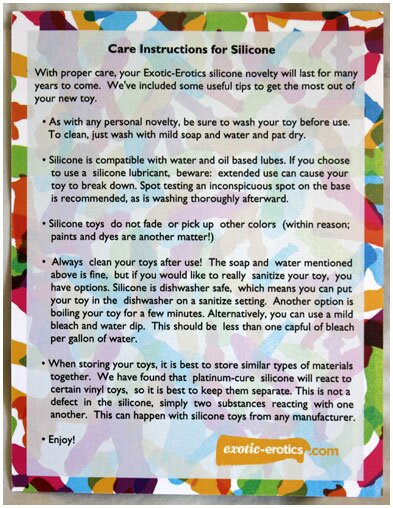 -Packaging-
When you're working on customizing your toy, you'll see a little box that allows you to add a storage pouch free with your order.  Make sure you select that box, especially if you're purchasing a larger toy since it's difficult to find an alternative option.  If you don't select this box, your toy won't include one.

It arrives in a plain brown box with the toy already inside the storage pouch, sealed in a clear plastic bag.  The included care card is in the actual box and the reverse side mentions that the product cannot be exchanged or returned if the plastic bag has been opened.  Make sure you received the right product before opening your toy because you won't be able to return it otherwise.
The pouches are handmade and fit the toy perfectly!  The material for this one reminded me of wind pants and doesn't produce any lint.  It's well made and fits the toy quite well.
-Experience-
I was so excited when I placed my order!  I'd been interested in trying one of these products for a long time and was overly giddy when I received the confirmation email.  Exactly one week after placing my order, the box arrived at my door.  The first thing I noticed was how heavy the box was, but the real surprise came when I opened the package.  I knew this toy was going to be large, but no amount of looking at images and measurements would have prepared me for having it in my hands.
I felt a little nervous at first, unsure if I was even going to be able to use it, but after having a really positive experience with Crackers the Cockatrice from Bad Dragon, I knew once I was warmed up that it would be amazing.
I used a few other toys first, and when I was ready, I lubed up the Elephant Trunk and did my best to relax.  The top of the toy was a little tough to insert because its so soft, but I was able to figure it out.  I was impressed with how soft the material felt, but didn't love how heavy it was when I was laying on my back.  I decided to stand next to my bed, right foot on the floor, left foot on my bed and I straddled it.  I was able to use my left hand to hold the base in place and I went to town.  Sliding on top of something so large was a totally new and exciting experience!  After enjoying myself for a bit, for the sake of the review, I figured out how far I was able to insert it.  After it was in 8″, it started annoying my cervix.   I highly doubt many women can take the full length vaginally, and was shocked when I measured what had been inside of me!  Since the tip of the toy is soft, I was able to insert it much further than if the toy had been firm the whole length.
Though the size is extremely intimidating when you're looking at it, it's overwhelming awesome during use.  The full feeling it provides along with the light texture stimulated all the right areas and sent me into a blissful state of pleasure.  Though this isn't one I'll be able to use all the time, it's an awesome option for when I'm needing a full feeling.
Interested in trying out an Elephant Trunk of your own?  Click the banner below to visit the site.

A massive thank you to Exotic-Erotics for providing this toy to me free of change (excluding shipping) in exchange for an unbiased review.  This is in compliance with FTC guidelines.